The Laser sailboat, arguably the most popular sailboat, is our most challenging as well as our most exhilarating sailboat. Although it can accommodate 1 adult and 1 child, it is intended to be sailed solo. It is a 13′ fiberglass hull with a large mainsail. it requires substantial movement of the sailor to maintain balance and it will capsize quite easily. Rigging/derigging is also more difficult than other boats in our fleet.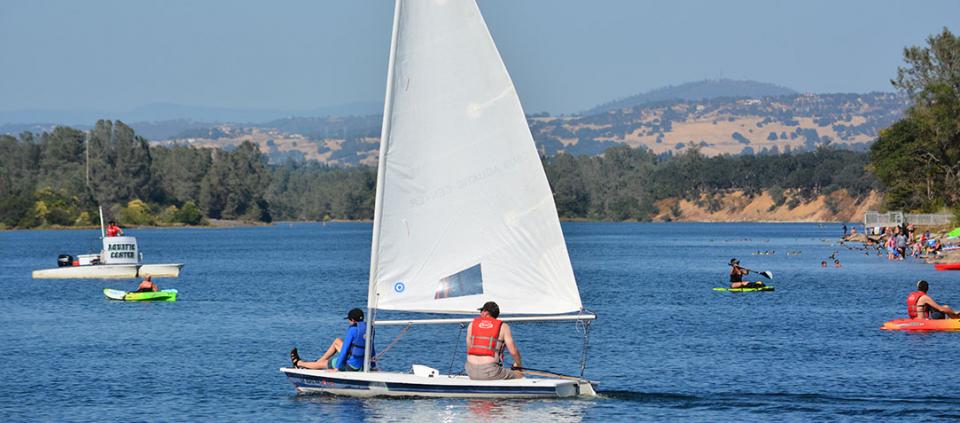 *Prerequisite: Aquatic Center Basic Sailing, Basic Keelboat Class or private lesson.
Clinic Details
Length: 3 Hours
Minimum Enrollment: 3
Maximum Enrollment: 6
Minimum Age Requirement: 12
Pricing
General Public: $65
CSUS Alumni: $60
Affiliates: $55
Sac State Students: $40
What to Expect
You will get wet! Bring a towel.
You should wear clothes that are comfortable and can get wet.
Shoes should either be tennis shoes or sandals with a heel strap.
NO FLIP FLOPS
The Front Office staff can hold your keys during class.
Any other personal belongings can be stored in our $0.50 one-time use lockers.
Expect to arrive at least 15 minutes early to complete the registration and check-in process.
2023 Laser Clinic Schedule
| Section | Date | Days | Time |
| --- | --- | --- | --- |
| LASER01 | TBA | | |