Recreation (1st & 2nd Year)
Due to the COVID-19 Pandemic this course is not offered at this time.
Our competitive race program trains racers up to the elite level. Using a challenging practice plan, we develop paddlers' endurance and technique. Individual stroke and boat mechanics are emphasized using video analysis and coaching. Time trials and a ranking system are used to place competitive crews. This program requires attendance commitment as well as other prerequisites for some races.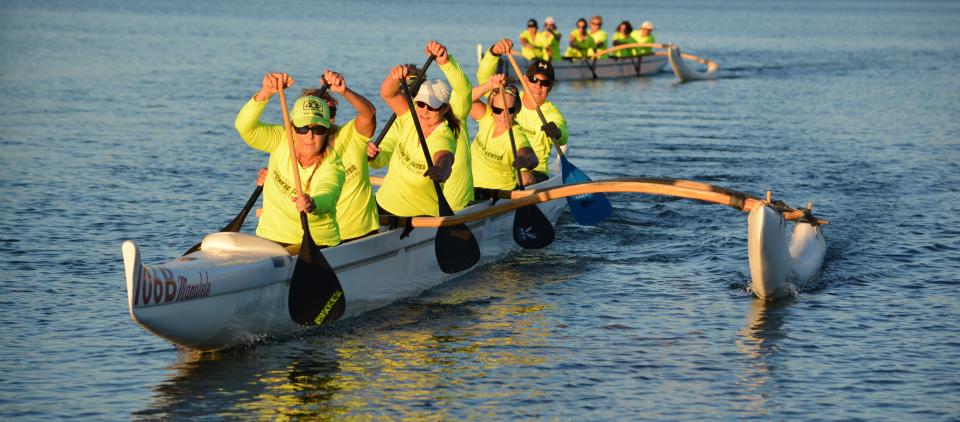 Pricing
All Capital Outrigger participants must maintain good standing as an Aquatic Center Outrigger Member.
Capital Outrigger Team Kai Mana Practice Schedule
| Days | Time |
| --- | --- |
| Monday & Thursday | 6:00 pm – 7:30 pm |
| Saturday | 9:00 am – 11:00 am |
2019 Race Schedule
| Date | Race | Location | Host |
| --- | --- | --- | --- |
| February 24 | Annual Race Clinic (Open to all) | BIAC, Redwood City | NCOCA Race Committee |
| May 4 | Viva Aloha LD | Alameda, Encinal Park | O'Kalani |
| May 25 | Memorial Day Hoe Wa'a LD | Monterey Beach | Ke Kai O'Uhane |
| June 8 | Sprint Regatta #1 Malia Canoe | Encinal Park (TBD) | Kamali'i O Ke Kai/Pu'Pu |
| June 15 | Sprint Regatta #2 | Encinal Park (TBD) | Tamalpais/He'e Nalu |
| June 29 | Sprint Regatta #3 | Monterey Beach | Outrigger Santa Cruz |
| July 13 | Sprint Regatta #4 | Nimbus Flat/Lake Natoma | Kaimanu, San Leandro |
| July 27 | Sprint Regatta Championships | Foster City | HPOCC Foster City |
| Aug 9-17 | IVF World Long Distance | AOCRA, Mooloolaba, Australias | IVF Federation |
| Aug 10 | 'Round da Rock' LD | Alcatraz Long Distance | He'e Halu |
| Aug 17 | Tony Gora Memorial LD | Santa Cruz Harbor | Pu'Pu 'O Hawai'i |
| Aug 31 – Sep 2 | Queen Liliuokalani Canoe Race | Kona, Big Island | Kai Opua |
| Sept 7-8 | Catalina Crossing (Classic) LD | Newport Beach/Avalon | SCORA Offshore |
| Sept 14 | Pailolo Channel LD | Maui to Moloka'i | Hawaiian CC |
| Sept 14 | Kula Anela Fort Baker LD | Angel Island Long Distance | Tamalpais |
| Sept 22 | Na Wahine (Women's World) | Moloka'i to Oahu (38m) | Na Wahine |
| Sept 28 | Monterey Bay Cross (MBX) LD | Santa Cruz to Monterey | Outrigger Santa Cruz |
| Oct 13 | Moloka'i Hoe (Men's World) | Moloka'i to Oahu (38m) | OHCRA |
| 2020 Summer TBD | IVF World Sprint Championships | HCRA, Hilo, Hawaii (Hawaii Isle) | IVF Federation |