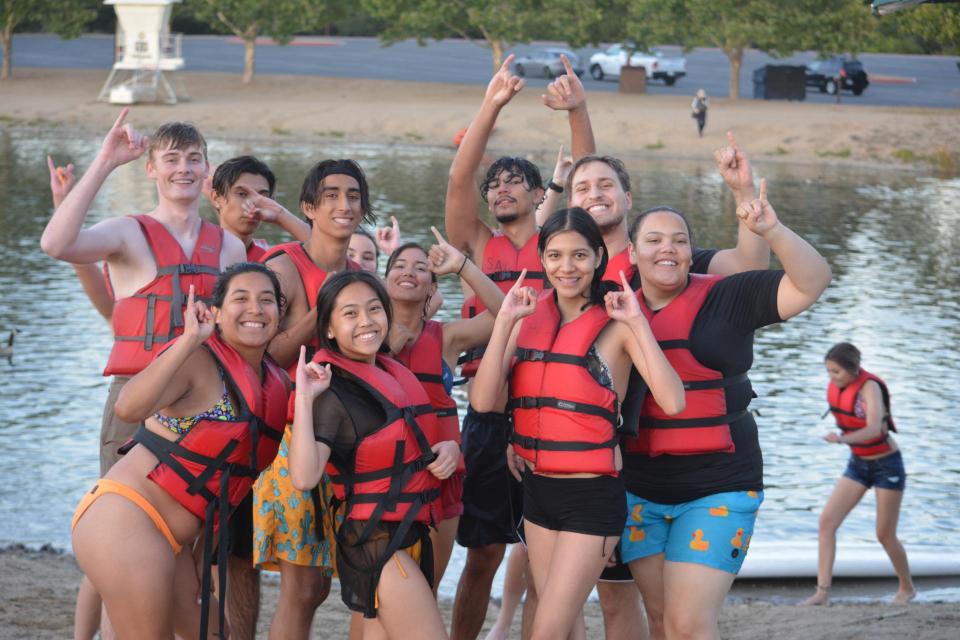 Welcome Sacramento State Students to your Aquatic Center. We are excited for you to come join us out on the water! Below are the opportunities we have for current Sacramento State Students:
Hornet Day at the Lake – August 26, 2023
Join the Aquatic Center on August 26, 2023 from 10:00 AM to 4:00 PM to kick off the Fall semester with Hornet day at the Lake.
The Aquatic Center will provide all 2023 Fall students with free rentals on Kayaks, canoes and stand up paddle boards.
Free shuttle for housing students from North Village. First pick time is 10:00 AM.
KSSU will be out providing music, we will have food trucks and much more! Stay tuned for more information!
Volleyball, basketball and our Water Enrichment Course available!
Boat Rentals
Make sure to always bring your photo ID and one set of car keys. Rental are done on a first come, first serve bases, no reservations are required.
Fall 2023
August 26
September 1
September 15
September 29
October 13
November 3
Lake Natoma & State Park Rules & Guidelines
Alcohol is not allowed on the Aquatic Center facility or in our rental equipment.
Coolers are subject to search and alcohol or drugs will not be allowed to be brought into the facility.
Any guests that are found under the influence of alcohol or drugs will not be allowed to receive services.
California State Parks states No person shall dive in any unit of the State Park System. As used in the section, dive means to plunge from any height, especially, but not limited to, head first water.
The Aquatic Center reserves the right to refuse service to any client that intends to participate in illegal activities in the State Park. This includes: rope swings, cliff jumping, tree plunging or diving and bike jumping.
Pets are not allowed on the facility or in our equipment.
Rental Equipment Terms & Conditions:
Renters must wear a life jacket at all times when operating equipment on the water (life jackets are included in the price of the rental.)
A photo ID is required for each adult using the equipment. Credit cards with a photo or digital copies of ID will not be accepted.
Keys & ID's will only be returned when all equipment is returned and rental fees have been paid.
Rental time starts as soon as you leave the office/kiosk and the time stops when you check back in at the office/kiosk. Fifteen minutes is taken off your total time to allow for time to get you in and out of the equipment. Rentals are charged on the hourly base and prorated every 15 minutes.
It is the responsibility of the user of the Sacramento State Aquatic Center, to check the equipment to make sure the equipment is in safe and working condition prior to, during and after the period of loan. Customer is responsible for any and all damage or injury resulting from the equipment or use of the equipment. You assume full responsibility for the equipment and agree to reimburse the Sacramento State Aquatic Center for repair or replacement of all lost or damaged items. The Sacramento State Aquatic Center does not assume liability for such damage and/or injury.
It is the customers responsibility to return the equipment on time and to be sure it is clean and still in working order. All equipment must stay on Lake Natoma and may not be transported to another location.
Penalty fees may be assessed for failure to meet the standards as specified above. This includes a late fee of $20.00 for each quarter hour past the specified return time.
Each user is responsible to make back to the Aquatic Center under their own power. If it is necessary for the Aquatic Center staff to do a retrieval of any user there will be a $25.00 charge per retrieval. Late fees may also apply.
Pricing for Sac State Students
Reminder – Hornet day at the Lake rentals are FREE!!! This price structure is for all other days.
All equipment rentals are charged by the hourly rate listed below and prorated to the nearest quarter hour.