After School Boating Camp
The after-school program is a condensed version of Basic Summer Camp and includes a variety of the following activities:
Due to COVID-19, all 2020 Aquatic Center camps are cancelled.
We regret to inform all our summer camp families that we will not be able to hold our traditional Summer Camp programming, as you know them. All campers who already register will receive a full refund. The Aquatic Center staff is looking into alternative youth programming that will be complaint with the CDC and Sacramento County. Respecting the 6 foot social distancing and the safety of our families and clients. Please check back for more information and guidelines for boat rentals and small group lessons and future youth programming.​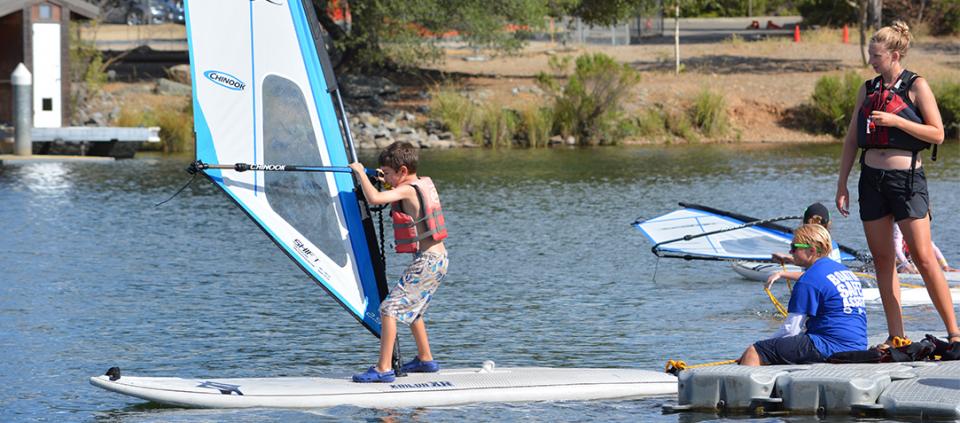 Sailing - Skimming effortlessly across the water in an afternoon breeze is an enjoyable sensation that is becoming more and more popular every year. Each student will learn the principles of sailing, water safety, sailing knots, and how to operate their sailboat.
Windsurfing - This thrilling sport is rapidly becoming one of the most popular aquatic sports today. Students will be applying their acquired skills along with windsurfing fundamentals toward practical experience on the water. Water play and games are a big part of the windsurfing day.
Canoeing - This day of camp will give students the skills needed to navigate a canoe across the lake safely and effectively. We will teach paddling strokes, balance, safety, and rescue. The serenity of Lake Natoma provides an excellent setting for this enjoyable sport.
Kayaking - This day exposes campers to the fundamentals of flat-water kayaking with adventures to Blackberry Island or The Camp "Prison." Maneuvering these feisty little boats is a real challenge and a lot of fun. This sport is very popular with our campers.
Boating Safety - Most serious boating accidents involve motorboats. Proper care, handling, and equipment are essential for safe and enjoyable boating. Classroom time is very valuable on Friday. The California Division of Boating and Waterways Safety Exam is given to every Basic camper. Boating safety skits are performed every Friday morning prior to classroom education. Awards are also presented to outstanding campers.
For fun and a challenge, there will be a variety of activities on Fridays: Team Raft Building, Sailing Races, Kayak Relays, Canoe Tug-a-War, and Kayak Water Polo. (Activities will vary each week). There is also a Friday BBQ for all campers hosted by the camp staff.
Camp Details
Camp Fee: $185
Ages: 7-15
Offered All 10 Weeks
Important Notice
If you are registering for summer camp online, please download and print this camper packet. Your camper will need this for Monday morning check-in, and without it your camper will not be eligible to participate in activities. You can either mail the completed packet to the Sac State Aquatic Center or bring it with you on the first day of camp.
2020 After School Camp Schedule
| Section | Days | Time | Start Date | End Date |
| --- | --- | --- | --- | --- |
| After School Camp Week #1 | Mon – Fri | 3:30 PM- 6:30 PM | June 8 | June 12 |
| After School Camp Week #2 | Mon – Fri | 3:30 PM- 6:30 PM | June 15 | June 19 |
| After School Camp Week #3 | Mon – Fri | 3:30 PM- 6:30 PM | June 22 | June 26 |
| After School Camp Week #4 | Mon – Fri | 3:30 PM- 6:30 PM | July 6 | July 10 |
| After School Camp Week #5 | Mon – Fri | 3:30 PM- 6:30 PM | July 13 | July 17 |
| After School Camp Week #6 | Mon – Fri | 3:30 PM- 6:30 PM | July 20 | July 24 |
| After School Camp Week #7 | Mon – Fri | 3:30 PM- 6:30 PM | July 27 | July 31 |
| After School Camp Week #8 | Mon – Fri | 3:30 PM- 6:30 PM | August 3 | August 7 |
| After School Camp Week #9 | Mon – Fri | 3:30 PM- 6:30 PM | August 10 | August 14 |
If you are attending weeks 2, 4, 6 or 8 you can join us for the Thursday night camp out! Cost: $60.00. Meals and activities are included in this fee!
Special Notes
It is recommended that parents drop off their children at the Aquatic Center at 3:30 pm (Camp instruction begins at 3:30 PM) After school camp instruction ends at 6:30 p.m. Parents are advised to pick up their children at 6:30 p.m.
Children must provide their own lunch/snack, water bottle, and sunscreen.
Children are required to wear a Personal Flotation Device (PFD) at all times!
Campers receive a T-shirt.
Please join us for Parents Night on the Thursday afternoon of the week your camper attends.
Please note our Friday Theme Days!