This course is designed to introduce the beginning paddler to the three most widely used recreational kayaks, correct paddling techniques, navigation and safety on Lake Natoma. The first day instruction will start with sit on top Kayaks, then move to a more technical boat called the surf ski. The second day will incorporate all of the skills in a Viking touring boat. Our ACA certified instructors create a friendly, welcoming environment for all participants regardless of age, ability or skill. Once you have completed this course, you are eligible to rent any equipment in which you have shown competence through this course.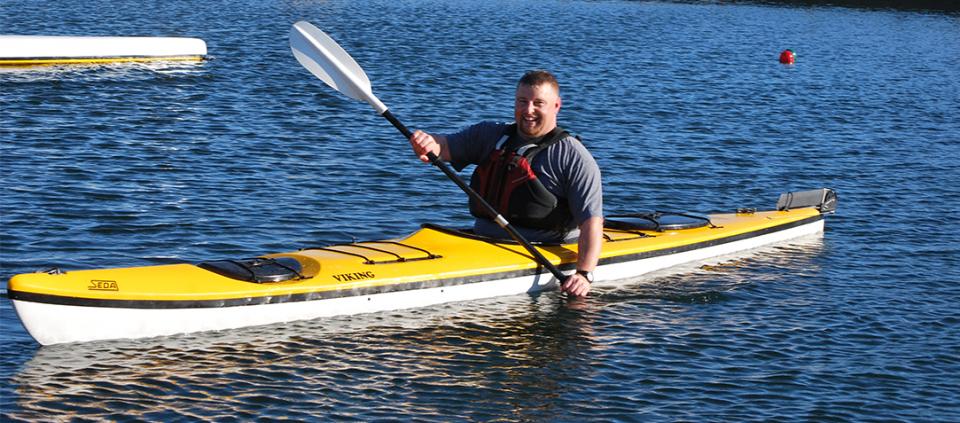 Course Details
Length: 6 Hours
Minimum Enrollment: 3
Maximum Enrollment: 6
Minimum Age Requirement: 12
Pricing
General Public: $125
CSUS Alumni: $120
Affiliates: $115
Sac State Students: $70
What to Expect
A swim test is required.
You will get wet! Bring a towel.
You should wear clothes that are comfortable and can get wet.
Most appropriate shoes are a "Teva Type" sandal or tennis shoes.
NO FLIP FLOPS!
The Front Office staff can hold your keys during class.
Any other personal belongings may be stored in a $0.50 one-time use locker. (Takes 2 quarters)
Expect to arrive at least 15 minutes early to complete the registration and check-in process.
2023 Basic Kayaking Class Schedule
| Section | Start Date | End Date | Days | Time |
| --- | --- | --- | --- | --- |
| KAYAK01 | Apr 15 | Apr 16 | Sat & Sun | 12:00 PM – 3:00 PM |
| KAYAK02 | Apr 26 | Apr 27 | Wed & Th | 5:00 PM – 8:00 PM |
| KAYAK03 | May 9 | May 10 | Tu & Wed | 5:00 PM – 8:00 PM |
| KAYAK04 | May 20 | May 21 | Sat & Sun | 10:30 AM – 1:30 PM |
| KAYAK05 | May 30 | May 31 | Tu & Wed | 5:30 PM – 8:00 PM |
| KAYAK06 | June 10 | June 11 | Sat & Sun | 12:00 PM – 3:00 PM |
| KAYAK07 | June 13 | June 14 | Tu & Wed | 5:30 PM – 8:30 PM |
| KAYAK08 | July 8 | July 9 | Sat & Sun | 12:00 PM – 3:00 PM |
| KAYAK09 | July 25 | July 26 | Tu & Wed | 5:30 PM – 8:30 PM |
| KAYAK010 | Aug 7 | Aug 8 | Mon & Tu | 5:00 PM – 8:00 PM |
| KAYAK011 | Aug 12 | Aug 13 | Sat & Sun | 12:00 PM – 3:00 PM |
| KAYAK012 | Aug 23 | Aug 24 | Wed & Th | 5:00 PM – 8:00 PM |
| KAYAK013 | Sept 7 | Sept 8 | Th & Fri | 4:30 PM – 7:30 PM |
| KAYAK014 | Sept 16 | Sept 17 | Sat & Sun | 11:00 AM – 2:00 PM |
| KAYAK015 | Sept 30 | Oct 1 | Sat & Sun | 11:00 AM – 2:00 PM |
| KAYAK016 | Oct 14 | Oct 15 | Sat & Sun | 12:00 PM – 3:00 PM |
| KAYAK017 | Oct 21 | Oct 22 | Sat & Sun | 1:00 PM – 4:00 PM |