It can also serve as a refresher course for those who have not recently sailed. The 14 hour course covers boating safety, knots, rigging and sailing theory. On the water skills such as boat handling, docking, sail trim and capsize recovery will be taught on Quest sailboats. Upon successful completion of this course graduates will be given a free two hour rental card and are eligible to
rent Quests
and join the Sacramento State
Aquatic Center Sailing Membership
. This class follows the guidelines set by US Sailing but does not offer a
US Sailing
certificate.
Our Basic Sailing class is taught in our Quest sailboat which requires two people to be in the boat to sail. Because of this and the COVID-19 regulations we are requiring registrants to be two people from the same household/cohort. Participants cannot register as an individual, they must register as a pair.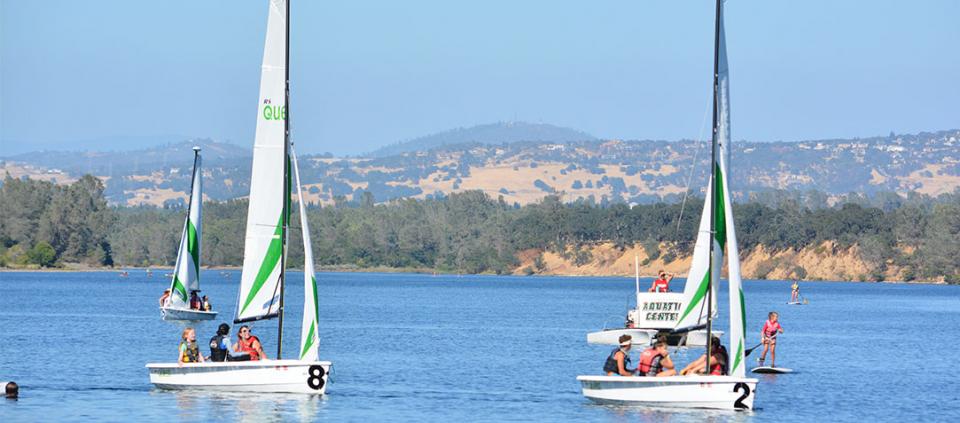 The book used for this course if the Learn Sailing Right Beginning Sailing book (IBSN: 978-0-979467-2-1). The book is included in the cost of the class. Picking up your book early is recommended but not required.
Course Details
Length: 14 hours
Minimum Enrollment: 4
Maximum Enrollment: 6
Minimum Age Requirement: 12
Pricing
Sac State Students: $300 (for two people)
Affiliate: $340 (for two people)
General Public: $370 (for two people)
What to Expect
You will get wet! Bring a towel
You should wear clothes that are comfortable and can get wet
Shoes should either be tennis shoes or sandals with a heel strap
NO FLIP FLOPS
The Front Office staff can hold your keys during class.
Any other personal belongings can be stored in our $0.50 one-time use locker; which takes two quarters.
COVID Regulations & Safety Plan
Arrive on time (neither early nor late)
Parking will be in our outer parking lot. You will be greeted by our safety compliance monitor at the "North" gate and you will give your name, class and time. They will give you a squirt of hand sanitizer and ask if you have your towel, water bottle and are ready for your class.
Check in at the Front Desk, turn in your participant waiver and COVID waiver. The front office staff will direct you to your class meeting location.
Face coverings must be worn on the facility at all times. Once on the water please remove your face covering but keep close so that you can put back on when you return to the docks.
Practice social distancing and maintain a 6 foot distance while on the facility.
Restrooms will be available to use at your own risk. There is no more than 3 people in the restroom at any time.
Guests and non-paying family members are not allowed to be at the facility.
Use of the Aquatic Center is at your own risk.
Be on a mission to arrive, attend your class, cleanup and depart for your next destination.
If you are sick, feel sick, or have a fever, you many not enter the facility
Individuals classified by the CDC as "at risk" should consider not coming to the facility.
2021 Basic Sailing Class Schedule
| Section | Start Date | End Date | Days | Time |
| --- | --- | --- | --- | --- |
| BSAIL01 | Mar 6 | Mar 14 | Sat & Sun | 2:00 PM – 5:30 PM |
| BSAIL02 | Mar 22 | Mar 25 | Mon – Th | 3:30 PM – 7:00 PM |
| BSAIL03 | Apr 10 | Apr 18 | Sat & Sun | 12:00 PM – 3:30 PM |
| BSAIL04 | Apr 12 | Apr 15 | Mon – Th | 4:00 PM – 7:30 PM |
| BSAIL05 | May 10 | May 13 | Mon – Th | 4:30 PM – 8:00 PM |
More class to come for 2021 as COVID restrictions ease.
Registration opens Monday, February 22, 2021