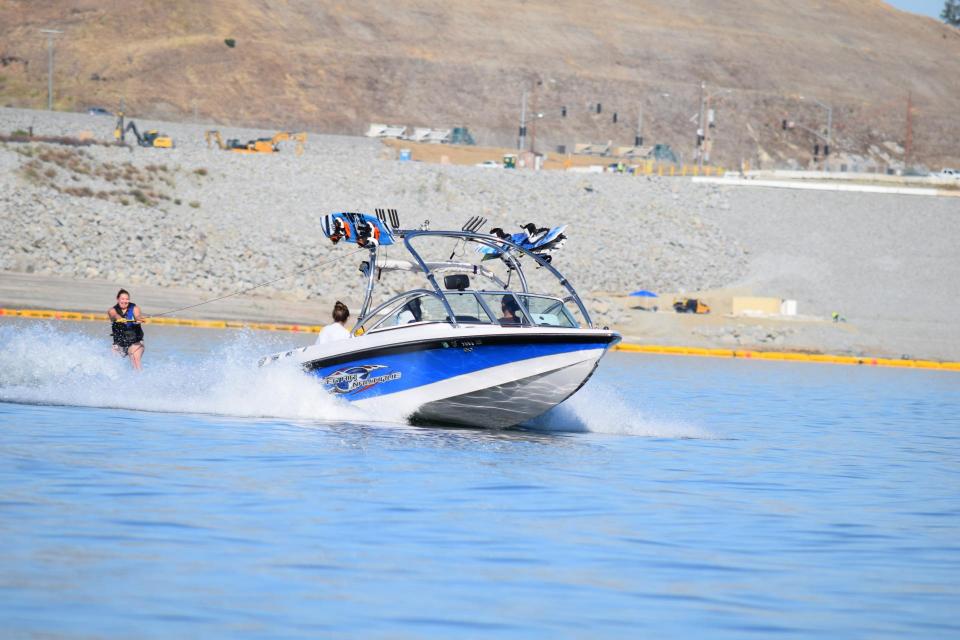 The Aquatic Center offers private lessons for water skiing, wakeboarding, barefooting, jet skiing and trick skiing. Water ski private lessons are designed for two or more people, who prefer one-on-one instruction or who are not able to attend a scheduled class. Private lessons are offered on an appointment only basis, and a request form must be submitted. The Aquatic Center's water ski and wakeboard are very popular and tend to book up fast. Fill out your request form early and return to the Aquatic Center.
Length
Two hour minimum
Pricing
| | One or Two People | Three People | Four People |
| --- | --- | --- | --- |
| Two Hours | $130 | $180 | $220 |
| Three Hours | $190 | $240 | $280 |
| Four Hours | $250 | $300 | $340 |
Additional notes & fees
A $25 per hour charge will be added for each additional person over four.
A private lesson request form must be completed and submitted prior to a lesson being scheduled
Swim Test Required
Water skiing/ Wakeboarding: Must supply an observer who is at least 12 years of age

If the aquatic center has to provide an observer, an additional $45.00 charge applies. (for a max of 3 hours)

Jet skiing: Minimum age 12 years old. Students 12 – 15 years old must be accompanied by an adult rider. Students 16 years old and above are permitted to ride without an adult rider.
Private lessons meet at Folsom Lake or can carpool from the Aquatic Center.
In order to ride a jet ski without an instructor onboard you must be 16 and over and have a CA Boaters Card
Schedule Information
During June, July and August lessons are not available Monday-Friday between 8:30am and 3:30pm due to our summer camp schedule.
There is also limited availability on weekends during the summer, Folsom Lake is extremely busy and during peak hours is not conducive for instruction.