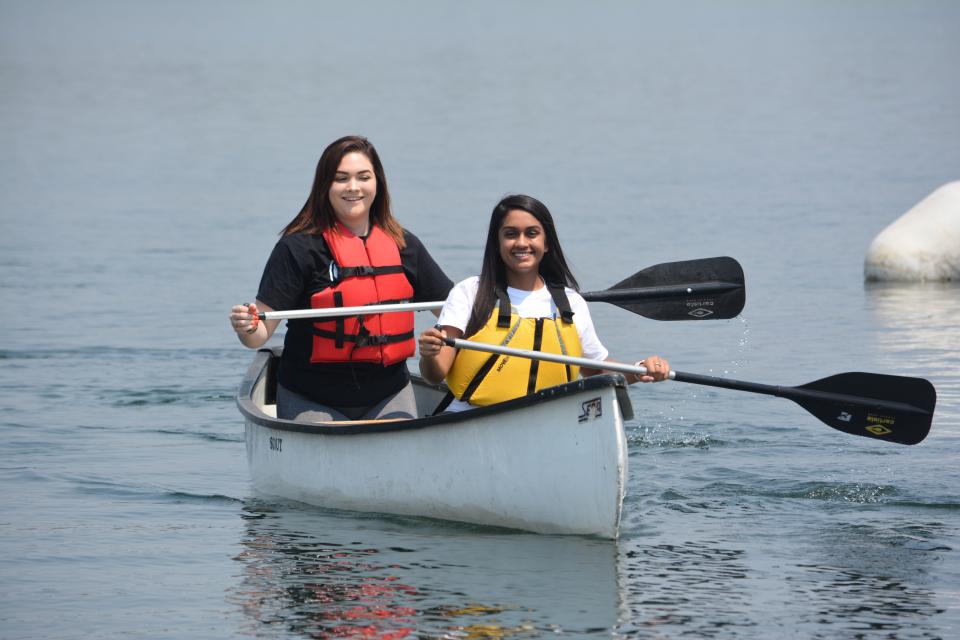 The Aquatic Center offers canoe rentals for up to 2 adults and one small child, or 1 adult and two small children. Must be rented by minimum of two people and must be from the same household
General Public: $16.00 an hour
Affiliate: $12.00 an hours
Sac State Student: $10.00 an hour
The Aquatic Center has received approved to open Saturday, July 11, 2020 for equipment rentals for canoes for people from the same household. Please carefully read all guidelines and information below to prepare for new procedures for making reservations and paddling at the Aquatic Center.
Guest & Staff Safety
You should not come to the facility if you are experiencing any systems of COVID-19. Do not enter the facility if you have a cough or fever. Patrons are expected to home screen themselves prior to coming to the Aquatic Center
Masks/face coverings are required to enter the Aquatic Center and within the Aquatic Center facility. Exceptions to the face covering requirement will be made for children 2 years or under. Medical exemptions must wear a face shield.
Face coverings should NOT be worn on the water, we recommend you tuck your face covering in a pocket or somewhere safe while out on the water so that you can access it easily when you return to the docks or stop at a spot along your paddle.
Equipment will be sanitized after each use, including boards, paddles and flotation devices.
You will notice markers on the grounds in areas of the facility where lines typically form. We ask that you and your group stand on a marker that is 6 feet from other guests while waiting.
Rental Reservations
All equipment rentals must be reserved in advance online. Online reservation system is for a specified entrance time and must be redeemed during that time.
A $10.00 reservation fee will be applied for each reservation time slot. The $10 will be credited toward your rental fee.
Reservation time slots are for max of five people from the same household. You only need to make one reservation per household (again max of five people)
Everyone in the group will need to sign a Aquatic Center Participant waiver and a COVID-19 waiver. Anyone 18 or over must also sign our Equipment Rental terms and conditions. Please print out forms at home and bring with you on the day of your rental.
Once on the water you may paddle until close at 7:00 pm.
Rentals will now check back in under the kiosk tent outside.
The Aquatic Center will only accepting Credit Card transactions only (Visa or Master Card) for payments.
We recommend bringing your own coast guard approved PFD. Patrons that bring their own Coast Guard approved life jacket will receive $1 off their boat rental.
Please check out our "How to" video to learn how to use our new online rental reservation system
[embed:3}
On the day of your reservation
Groups will check in with staff at our entrance gates, staff will check for your reservation, make sure all people in your group are present and ask you to sanitize your hands before being allowed to enter the facility.
Please make sure everyone over 18 has a photo ID and one set of keys for the group before entering the facility.
Everyone must check in at the kiosk tent, turn in waivers, ID and keys. You will receive your wristband and sent to get your life jackets.
Please maintain social distancing and follow the markers on the docks. The staff will get your equipment out, help you get in and send you on your way.
All equipment will launch from our middle dock "Sac" dock and all equipment will return to our "State" dock.
If there is a group already coming back into the dock our staff will ask you to please wait on the water before docking.
When you return staff will assist you in exiting your equipment and send you to our equipment sanitation area where you will return your paddle and life jacket.
You will then proceed behind the main building to the payment station on the south side of the kiosk tent.
After you have paid, removed your wristband and received your keys and ID's please exit the facility.
OTHER FAQ's
The Aquatic Center restrooms will be open for patrons to use but have a max occupancy of 3 people at a time.
Gatherings of any kind are not permitted on the facility. After you have finished your rental please exit the facility.