Here at the Sacramento State Aquatic Center we have brought people together through education, recreation and competition for over 30 years. As a part of our mission we want to help you fulfill your organization's vision by designing a Water Enrichment Training event for your faculty and staff. Whether it be for 10 or 200 we have designed W.E.T. programs for corporations both large and small such as Sam's Club and Intel getting them out of the office and onto the water, where our specially designed program activities challenge individuals both physically and mentally. Our goal is to enhance employee morale, encourage positive relations and most importantly develop memories outside of the office that create lasting and meaningful working relationships and friendships. If you're looking for something to reward and encourage your staff during the next staff appreciation, this is it!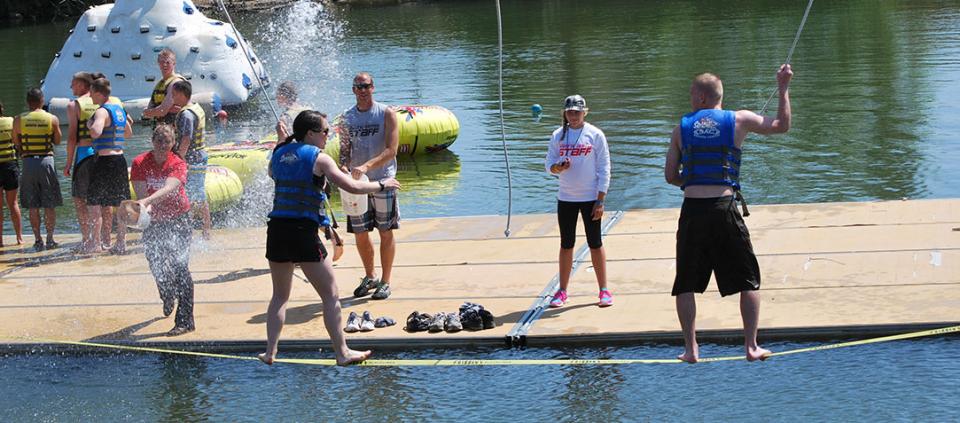 | Duration | Cost Per Participant |
| --- | --- |
| 2 hour | $30.00 |
| 3 hours | $40.00 |
| 4 hours | $50.00 |
What Do We Need to Bring to be Prepared?
Swim Suit or Board shorts
Beach towel
Bottle drinking water
Sun block
Sack lunch
Dry set of clothes
Water shoes with heel straps (bare feet not permitted)
The Aquatic Center Will Provide
Life jackets for all participants (if participants have their own life jackets or wet suits they are more than welcome to bring them)
Boating safety instructors
Boating activities and challenges may include any of the following:
Canoeing, Kayaking, Swimming, Paddle Boards, Rowing, and land based Activities
Note of Comfort to all Participants
Challenges can be challenge by choice but we encourage all to participate.
Everyone is required to wear a PFD(personal flotation device) at all times when on the water, in the boats or on our docks.
To schedule your Team Building WET day please fill out the Request Form as well as the Program Goals and Expectations