This class is for those wishing to learn the art of handling a recreational "ski" boat. Emphasis is placed on the skill of driving a powerboat on Folsom Lake simulating towing a skier or boarder, transitioning for "low speed" to "on plane", high speed turns and returning to a down skier/boarder. Information based on USA Water Ski Trained Driver Practical.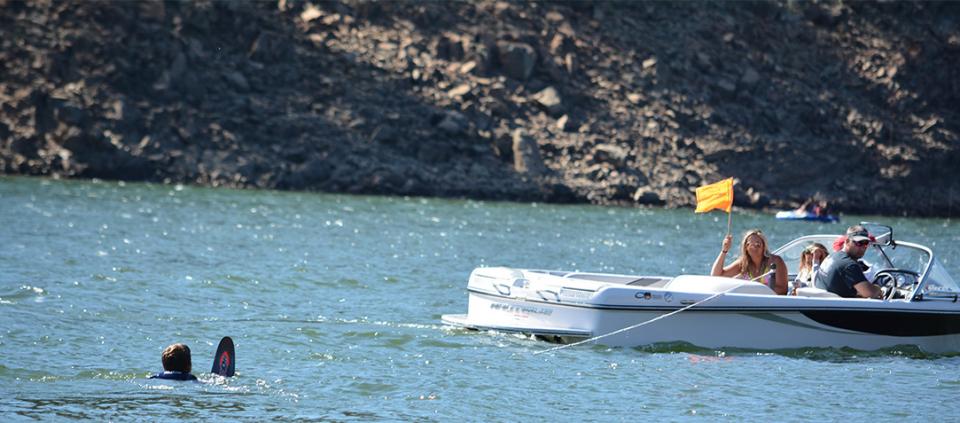 Prerequisite: Students must have successfully completed the Basic Power Boating class.
The book used for this course if the California Course for Safe Boating. You can view an online version of this book here: online textbook. Picking up your book early is recommended but not required.
Course Details
Length: 2 Hours
Minimum Enrollment: 3
Maximum Enrollment: 8
Minimum Age Requirement: 12
Pricing
General Public: $75
CSUS Alumni: $70
Affiliates: $65
Sac State Students: $45
2023 Folsom Power Boat Clinic Schedule
| Section | Date | Day | Time |
| --- | --- | --- | --- |
| BoatClinic01 | Mar 16 | Thurs | 4:00 PM – 6:00 PM |
| BoatClinic02 | Apr 20 | Thurs | 4:30 PM – 6:30 PM |
| BoatClinic03 | May 25 | Thurs | 5:00 PM – 7:00 PM |
| BoatClinic04 | June 22 | Thurs | 5:30 PM – 7:30 PM |
| BoatClinic05 | July 13 | Thurs | 5:30 PM – 7:30 PM |
| BoatClinic06 | Aug 17 | Thurs | 5:00 PM – 7:00 PM |
| BoatClinic07 | Sept 14 | Thurs | 4:30 PM – 6:30 PM |