Our Patriotic Boating Camp will feature a three day basic camp and a two day Sailing camp. Camp instruction starts at 9:00 am and camp ends at 3:00 pm.

Sailing Camp – two day camp
Sailing - Skimming effortlessly across the water in an afternoon breeze is an enjoyable sensation that is becoming more and more popular every year. Each student will learn the principles of sailing, water safety, sailing knots, and how to operate their sailboat.
Windsurfing - This thrilling sport is rapidly becoming one of the most popular aquatic sports today. Students will be applying their acquired skills along with windsurfing fundamentals toward practical experience on the water. Water play and games are a big part of the windsurfing day.
Boating Safety - Most serious boating accidents involve motorboats. Proper care, handling, and equipment are essential for safe and enjoyable boating. Campers will learn these essential skills in the classroom on Friday. The California Division of Boating and Waterways Safety Exam is given to every Basic camper. Boating safety skits are performed every Friday morning prior to classroom education. Awards are also presented to outstanding campers.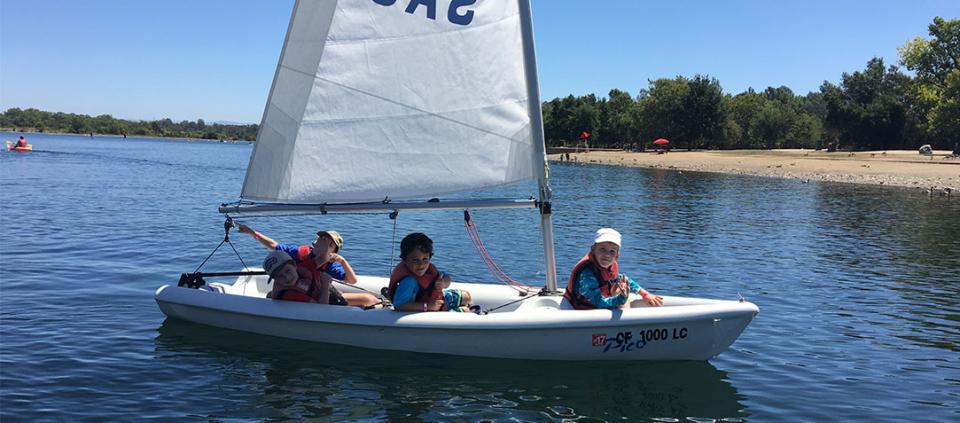 Important Notice
If you are registering for summer camp online, please download and print this camper packet. Your camper will need this for Monday morning check-in, and without it your camper will not be eligible to participate in activities. You can either mail the completed packet to the Sac State Aquatic Center, or bring it with you on the first day of camp.
2024 Patriotic Camp Dates
| Section | Days | Time | Start Date | End Date | Cost |
| --- | --- | --- | --- | --- | --- |
| Patriotic Basic Camp | Wed – Friday | 9:00 AM – 3:00 PM | July 1 | July 3 | $235 |
| Patriotic Sail Camp | Thurs-Fri | 9:00 AM – 3:00 PM | July 1 | July 2 | $175 |
Special Notes
Campers must provide their own lunch, water bottle, and sunscreen.
Campers are required to wear a Personal Flotation Device (PFD) at all times!
Campers receive a T-shirt.