There is no better way to spend the afternoon than riding along on a Kawasaki Jet Ski with the wind in your face, adrenaline pumping through your body and the assurance of safety. This class is designed to educate watercraft users about safety, care and operation on various waterways. The class consists of a two hour classroom lecture and three hours of practical operation on Folsom Lake. In accordance with California State Law, riders must be at least 16 years of ave and have their CA Boater Card in order to operate the jet ski on their own. Per California State Law the minimum age for this class is 12 years old. Children between 12 and 16 years of age may participate only if accompanied by an adult who has their CA Boater Card. If you do not have your CA Boater Card by the time the class starts, you may still participate; a certified Aquatic Center instructor will accompany you on the Jet Ski.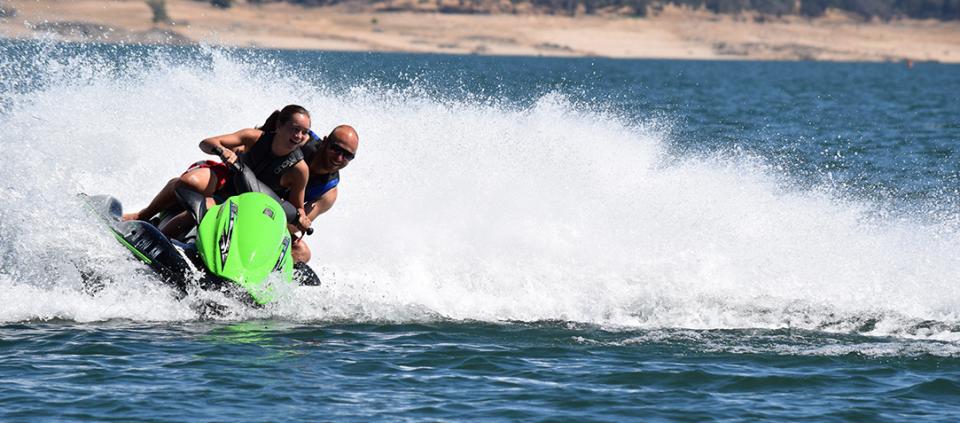 You can apply for your CA Boater Card ahead of time here.
Course Details
Length: 5 Hours
Minimum Enrollment: 2
Maximum Enrollment: 6
Age Requirements: 12 – 16 with adult who has a CA Boater Card.
*Must be at least 16 and have their CA Boater Card to operate PWC without an adult.
Pricing
Sac State Students: $90
Affiliates: $110
Alumni: $120
General Public: $125
2021 PWC Class Schedule
| Section | Date | Day | Time | Date | Day | Time |
| --- | --- | --- | --- | --- | --- | --- |
| PWC01 | TBA | | | | | |