Due to the COVID-19 Pandemic this course is not offered at this time.
This clinic is designed for graduates of our Basic Keelboat class who wish to use our fleet of Quest sail boats. These boats are fun, durable, roto-molded boats that can be sailed by enthusiasts of many ages. In this 1-day, 3-hour clinic, students will learn their simple rigging with removable jibs and reefing main sails. Ideal for children, teens and small adults.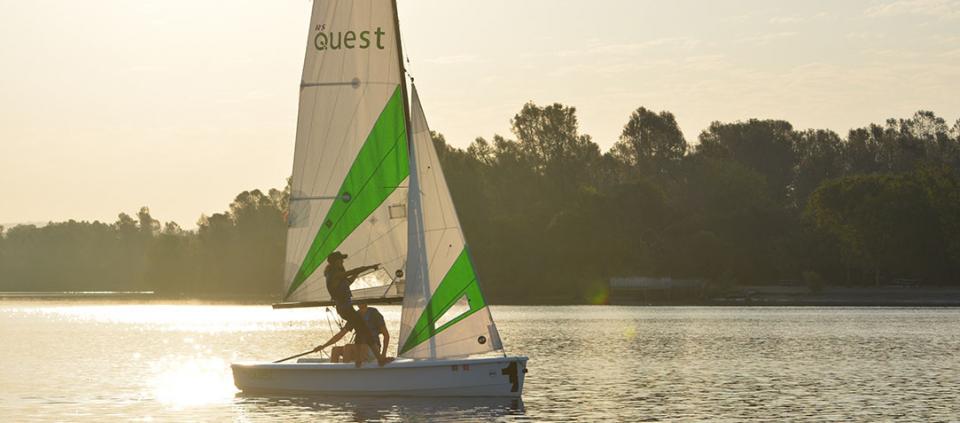 Clinic Details
Length: 3 Hours
Minimum Enrollment: 3
Maximum Enrollment: 6
Minimum Age Requirement: 12
Pricing
Sac State Students: $40
Affiliates: $55
General Public: $65
Swim Test
*Prerequisite: Aquatic Center Basic Sailing, Basic Keelboat Class or private lesson.
What to Expect
You will get wet! Bring a towel
You should wear clothes that are comfortable and can get wet
Shoes should either be tennis shoes or sandals with a heel strap
NO FLIP FLOPS
The Front Office staff can hold your keys during class
Any other personal belongings will have to be stored in a $0.50 one-time use locker
Expect to arrive at least 15 minutes early to complete the registration and check-in process
2021 Quest Clinic Schedule
| Section | Date | Day | Time |
| --- | --- | --- | --- |
| QUEST01 | TBA | | |