This course is designed to give the adventurous novice kayaker a taste of downriver paddling and there is no better place than the lower American River Parkway. Thousands of people float this calm section of the river each summer making it the perfect playground for beginners to develop sound paddling, navigation, and safety skills. Our ACA certified instructors know just how to make each participant feel confident and safe regardless of their paddling experience…There's just something about the river which creates memories that last a lifetime!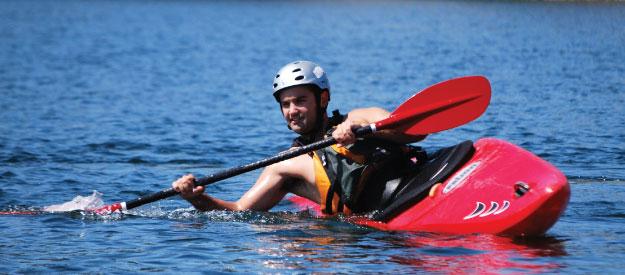 Course Details
Day 1: River Boat on Lake Natoma
Day 2: River Boat on the Lower American River (Sailor Bar – Rossmoor Bar)
Minimum Enrollment: 4
Maximum Enrollment: 10
Minimum Age Requirement: 12
Pricing
General Public: $170
CSUS Alumni: $165
Affiliates: $160
Sac State Students: $100
What to Expect
A swim test is required.
You will get wet! Bring a towel.
You should wear clothes that are comfortable and can get wet.
Most appropriate shoes are tennis shoes.
NO FLIP FLOPS!
The Front Office staff can hold your keys during class.
Any other personal belongings may be stored in a $0.50 one-time use locker. (Takes 2 quarters)
Expect to arrive at least 15 minutes early to complete the registration and check-in process.
2023 River Kayaking Class Schedule
| Section | Start Date | End Date | Days | Time |
| --- | --- | --- | --- | --- |
| RIVER01 | June 28 | June 29 | Wed & Thu | 4:00 PM – 8:00 PM |
| RIVER02 | July 23 | July 24 | Sat & Sun | 12:00 PM – 4:00 PM |
| RIVER03 | Aug 9 | Aug 10 | Wed & Thu | 4:00 PM – 8:00 PM |