Stand Up Paddle Board Rentals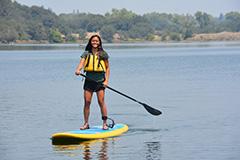 The Aquatic Center offers stand up paddle boards for single use.
STAND UP PADDLE BOARD RATES
General Public: $15.00 an hour
Affiliate: $12.00 an hours
Sac State Student: $10.00 an hour
Guest & Staff Safety
You should not come to the facility if you are experiencing any systems of COVID-19. Do not enter the facility if you have a cough or fever. Patrons are expected to home screen themselves prior to coming to the Aquatic Center
Masks/face coverings are required to enter any indoor space of theAquatic Center. Exceptions to the face covering requirement will be made for children 2 years or under. Medical exemptions must wear a face shield.