Our small group SUP courses are designed for all skill and ability levels and will give advanced paddlers an opportunity to hone their techniques. Want to try your hand at the hottest new sport on the water? Sign up for one of our stand up paddleboard (SUP) classes and see what the excitement is about. Starting out in Waikiki in the 1930's for surfers to more quickly paddle into waves, using a long canoe paddle became popular as an alternative to hand paddling and quickly standing. The sport largely dropped off the radar for many years, and was recently re-popularized when famous big wave surfer Laird Hamilton and some of his Hawaiian surf buddies started doing it using specialized boards and paddles.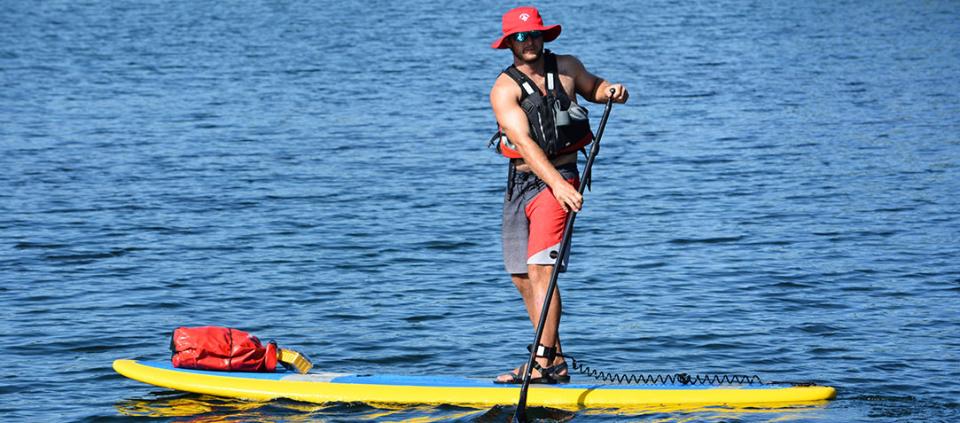 In addition to its colorful history, it's a great way to cruise the water seeing everything around and below you, and is one of the best whole body workouts you will ever do.
Course Details
Length: 3 Hours
Minimum Enrollment: 3
Maximum Enrollment: 6
Minimum Age Requirement: 10
Pricing
Sac State Students: $40
Affiliates: $50
General Public: $55
What to expect
A swim test is required.
You will get wet! Bring a towel.
You should wear clothes that are comfortable and can get wet.
Most appropriate shoes are tennis shoes.
NO FLIP FLOPS!
The Front Office staff can hold your keys during class.
Any other personal belongings may be stored in a $0.50 one-time use locker. (Takes 2 quarters)
COVID Regulations & Safety Plan
Arrive on time (neither early nor late)
Parking will be in our outer parking lot. You will be greeted by our safety compliance monitor at the "North" gate and you will give your name, class and time. They will give you a squirt of hand sanitizer and ask if you have your towel, water bottle and are ready for your class.
Check in at the Front Desk, turn in your participant waiver and COVID waiver. The front office staff will direct you to your class meeting location.
Face coverings must be worn on the facility at all times. Once on the water please remove your face covering but keep close so that you can put back on when you return to the docks.
Practice social distancing and maintain a 6 foot distance while on the facility.
Restrooms will be available to use at your own risk. There is no more than 3 people in the restroom at any time.
Guests and non-paying family members are not allowed to be at the facility.
Use of the Aquatic Center is at your own risk.
Be on a mission to arrive, attend your class, cleanup and depart for your next destination.
If you are sick, feel sick, or have a fever, you many not enter the facility
Individuals classified by the CDC as "at risk" should consider not coming to the facility.
2021 Stand Up Paddling Class Schedule
| Section | Date | Day | Time |
| --- | --- | --- | --- |
| SUP01 | Mar 19 | Fri | 12:00 PM – 3:00 PM |
| SUP02 | Mar 26 | Fri | 12:00 PM – 3:00 PM |
| SUP03 | Apr 3 | Sat | 9:00 AM – 12:00 PM |
| SUP04 | Apr 9 | Fri | 4:00 PM – 7:00 PM |
| SUP05 | Apr 17 | Sat | 12:00 PM – 3:00 PM |
| SUP06 | Apr 24 | Sat | 9:00 AM – 12:00 PM |
| SUP07 | Apr 29 | Thu | 12:00 PM – 3:00 PM |
| SUP08 | May 7 | Fri | 12:00 PM – 3:00 PM |
| SUP09 | May 18 | Tues | 5:00 PM – 8:00 PM |
More 2021 classes to come as restrictions ease.