Come join us for a beautiful sunset on Lake Natoma and the rise of a full moon. Gently paddling on the waters of Lake Natoma serves as an escape from the rigors of the day. All paddling abilities are welcome. The kayaks are self-bailing so be prepared to get a little wet.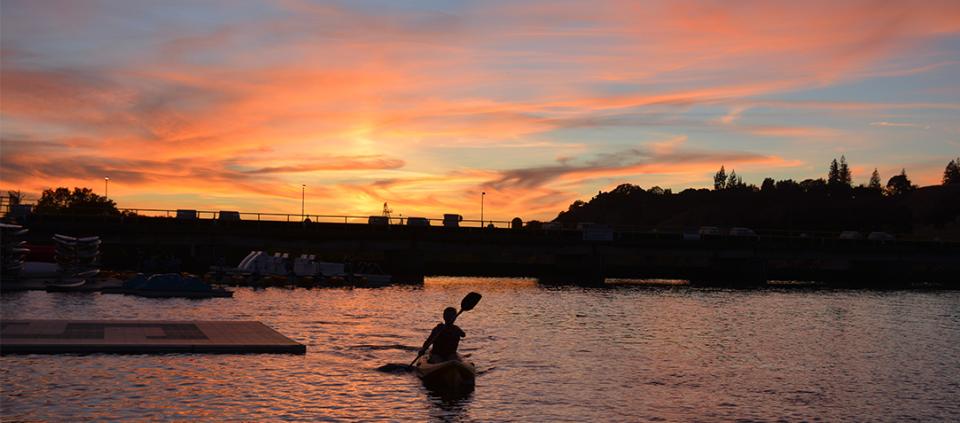 Course Details
Length: 2.5 Hours
Minimum Enrollment: 4
Minimum Age Requirement: 10
Pricing
Sac State Students: $20
Affiliates: $30
General Public: $35
COVID Regulations & Safety Plan
Arrive on time (neither early nor late)
Parking will be in our outer parking lot. You will be greeted by our safety compliance monitor at the "North" gate and you will give your name, class and time. They will give you a squirt of hand sanitizer and ask if you have your towel, water bottle and are ready for your class.
Check in at the Front Desk, turn in your participant waiver and COVID waiver. The front office staff will direct you to your class meeting location.
Please practice social distancing and maintain a 6 foot distance while on the facility.
Restrooms will be available to use at your own risk. There is no more than 3 people in the restroom at any time.
Guests and non-paying family members are not allowed to be at the facility.
Use of the Aquatic Center is at your own risk.
Be on a mission to arrive, attend your class, cleanup and depart for your next destination.
If you are sick, feel sick, or have a fever, you many not enter the facility
Individuals classified by the CDC as "at risk" should consider not coming to the facility.
2021 Sunset Paddle Class Schedule
| Section | Date | Day | Time |
| --- | --- | --- | --- |
| SUNSET01 | Feb 26 | Fri | 4:00 PM – 7:00 PM |
| SUNSET02 | Mar 26 | Fri | 5:30 PM – 8:00 PM |
| SUNSET03 | Apr 2 | Fri | 5:30 PM – 8:00 PM |
| SUNSET04 | Apr 23 | Fri | 6:30 PM – 9:00 PM |
| SUNSET05 | May 21 | Fri | 6:30 PM – 9:00 PM |
| SUNSET06 | May 28 | Fri | 6:00 PM – 8:30 PM |
| SUNSET07 | Jun 18 | Fri | 7:00 PM – 9:30 PM |
| SUNSET08 | Jun 25 | Fri | 6:30 PM – 9:00 PM |
| SUNSET09 | Jul 23 | Th | 7:00 PM – 9:30 PM |
| SUNSET010 | Jul 30 | Fri | 6:00 PM – 8:30 PM |
| SUNSET011 | Aug 20 | Fri | 6:30 PM – 9:00 PM |
| SUNSET012 | Aug 27 | Fri | 6:30 PM – 9:00 PM |
| SUNSET013 | Sep 17 | Fri | 6:00 PM – 8:30 PM |
| SUNSET014 | Sep 24 | Fri | 5:00 PM – 7:30 PM |
| SUNSET015 | Oct 22 | Fri | 5:00 PM – 7:30 PM |