Golden State Indoor Rowing Championships
February 4, 2023
Hosted by the Sacramento State Aquatic Center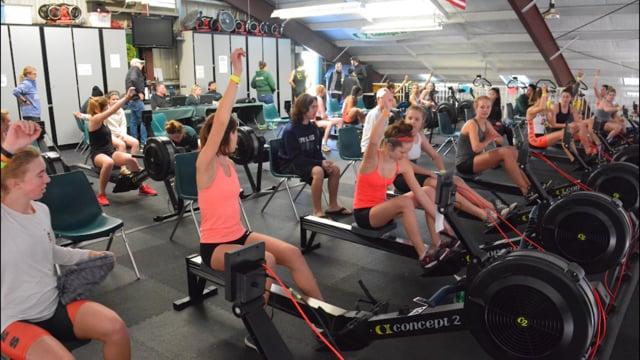 The Sacramento State Aquatic Center would like to welcome everyone to the Golden State Indoor Rowing Championships.
Time & Location
Registration 7:30 AM
First Race 8:30 AM
Sacramento State Aquatic Center 1901 Hazel Avenue, Gold River CA 95670
Entry Deadline & Fees
Postmarked by Friday, January 27, 2023
Fees: $25.00 per Competitor
Individual Online Registration - please click the link to register individuals online.
To learn how to make an account see below
Group Discount:
$20.00 per competitor for teams entering 10 or more athletes. All competitors names must be submitted with the group entry form. No race day substitutions are allowed. The group discount is not available on the day of the race.
Late Entries:
Late entries: $30.00 accepted on race day only if there is space available.
How to make an account:
If you could please go to: https://asi.perfectmind.com
Create your account in today in 4 easy steps:
Sign up!

Click the "Sign Up" button and enter all required fields; First Name, Last Name, Date of Birth, Email, Primary Phone, Street, City, County/Region, State and Postal code.
You will be automatically logged in. Please go ahead and log out (top right hand corner.) So that you can set up your password.
A temporary password has been emailed to you.

Retrieve your temporary password

Go to your email to retrieve your temporary password
Be sure to check your junk email

Set your new personal password:

Return to https://asi.perfectmind.com login using your temporary password and now you can set your new personal password
Password Requirements:

Minimum 12 characters in length
Lowercase letter
Uppercase letter
Number
Punctuation Mark or Symbol

Login into Your Account

Using your new personal password, login and explore your new account!

Add family members
Save your financial information
Navigate and learn your new account.
Schedule of Events- DRAFT
Distance
500 meter, 1000 meters or 2000 meters. If you are wishing to qualify for the US Rowing National Indoor Rowing Championships you must enter a 2000 meter race.
Damper Settings
The Concept II Model D indoor rower will be used for the race. Competitors may chose the damper setting they prefer but cannot change the setting during the race.
Format
All races will be finals. In events with more than ten entries, seeded heats will be created based on the erg score submitted with the entry form. The fastest time recorded during all the heats for a particular event will be the winner.
Awards
First, second and third place medals will be awarded to the fastest times in each category.
Veteran Events
We will be running one event for all the veterans. Note: Concept 2 and US Rowing break the veterans' category up further; we do not due to lack of entries. Although we will run all the veterans at the same time, competitors can still qualify in their age group (see Us Rowing qualifying chart for an entry to the US Rowing National Indoor Rowing Championships )
Lightweight Events
All weights are listed below. Lightweight will compete in their age categories and fastest lightweight will medal within that category. Those that wish to qualify for US Rowing National Indoor Rowing Championships must weight in 1-2 hours prior to their event for qualification purposes, even though their event at this regatta is not a lightweight event.
Categories
Open (no restrictions)
Lightweight (men 75 kilos and under, women 61.5 kilos and under)
Junior Lightweight (men 150 lbs and under, women 130 lbs and under)
Junior (ages 14-18, must have been born on or after Jan. 1, 2002 and be enrolled in high school (or lower grade) as of race day.)
Master (ages 30-39)
Senior (ages 40-49)
Veteran (ages 50 and up)
Coxswains (participants must be primarily a coxswain and cannot exceed the maximum coxswain weight: men – 130lbs, women – 120lbs)