Teens from 13-17 years can join the Adventure Camp by participating in this special advanced camp. Included: one day of sailing and windsurfing at the Aquatic Center, a day of kayaking and canoeing down the Lower American River, a white water raft trip on the Upper American River, and an adventure race around Lake Natoma! Campout on Thursday night is included in the cost, as well as Friday lunch.
Due to COVID-19, all 2020 Aquatic Center camps are cancelled.
We regret to inform all our summer camp families that we will not be able to hold our traditional Summer Camp programming, as you know them. All campers who already register will receive a full refund. The Aquatic Center staff is looking into alternative youth programming that will be complaint with the CDC and Sacramento County. Respecting the 6 foot social distancing and the safety of our families and clients. Please check back for more information and guidelines for boat rentals and small group lessons and future youth programming.​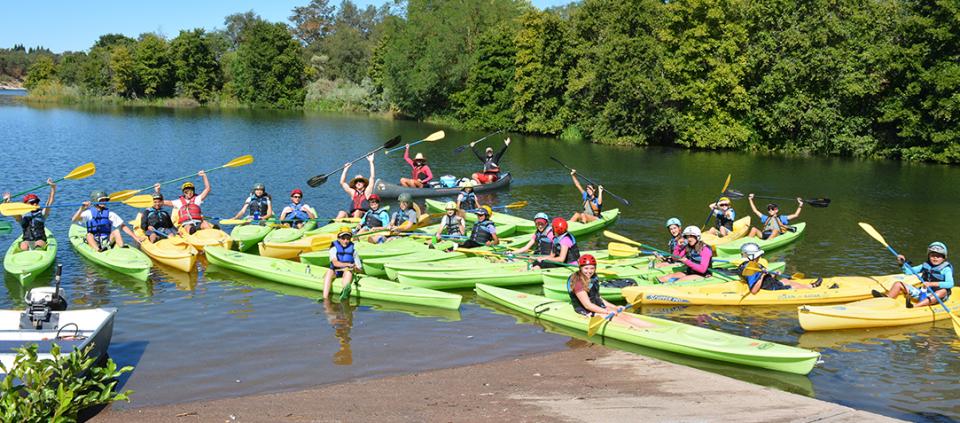 Camp Details
Camp Fee: $445 per week.
Ages: 12-17
Offered Weeks: 2, 4, 6, & 8
2020 Session Dates
| Section | Days | Time | Start Date | End Date |
| --- | --- | --- | --- | --- |
| Adventure Week #2 | Mon – Fri | 8:00 AM – 4:00 PM | June 15 | June 19 |
| Adventure Week #4 | Mon – Fri | 8:00 AM – 4:00 PM | July 6 | July 10 |
| Adventure Week #6 | Mon – Fri | 8:00 AM – 4:00 PM | July 20 | July 24 |
| Adventure Week #8 | Mon – Fri | 8:00 AM – 4:00 PM | August 3 | August 7 |
Important Notice
If you are registering for summer camp online, please download and print thiscamper packet. Your camper will need this for Monday morning check-in, and without it your camper will not be eligible to participate in activities. You can either mail the completed packet to the Sac State Aquatic Center, or bring it with you on the first day of camp.
If you are attending weeks 2,4,6 or 8 you can join us for the Thursday night campout! Cost is included for Adventure Campers. Meals and activities are included in this fee.
Special notes
It is recommended that parents drop off their children at the Aquatic Center at 8:00 AM. (Camp instruction begins at 8:30 AM) Camp instruction ends at 3:30 PM. Pick up time is between 3:30 PM and 4:00 PM.
Child must provide their own lunch, water bottle, and sunscreen.
Children are required to wear a Personal Flotation Device (PFD) at all times! (Provided by the Aquatic Center)
Campers receive a free T-shirt!
Please join us for Parents Night on the Thursday afternoon the week your camper attends.
Ask you instructor about our Friday Theme Days!