This course is designed for the beginner/novice rower in a two, four or 8 man rowing shell with one oars. It teaches safety, boat control, proper care of equipment, and correct rowing technique. Students will row in team rowing shells and learn the fundamental aspects of sweep rowing. Unlike our sculling class, successful completion of this course does not enable students to rent shells for recreational use. This course is designed to teach team rowing and students are encouraged to join one of the rowing programs offered through the aquatic center after successful completion of this course. (Sacramento State Rowing Club, Capital Crew, Masters, or the AC Rowing Membership)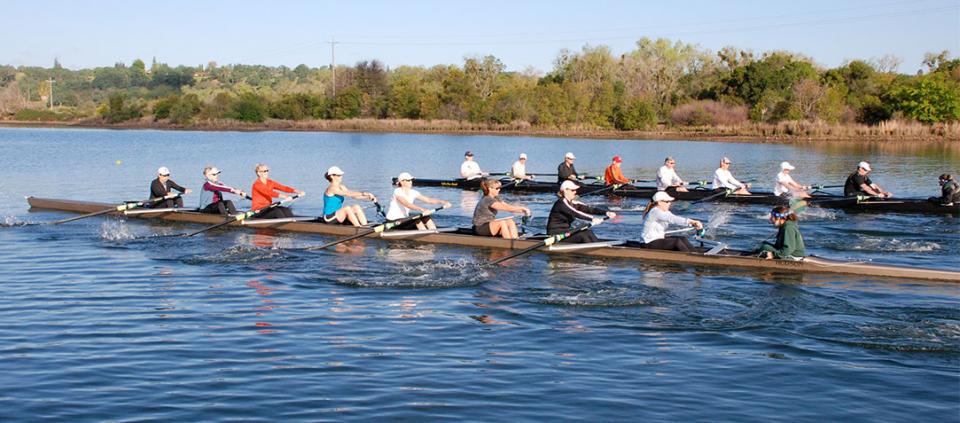 Course Details
Length: 8 Hours
Minimum Enrollment: 4
Maximum Enrollment: 24
Minimum Age Requirement: 18
Pricing
General Public: $160
CSUS Alumni: $155
Affiliates: $150
Sac State Students: $95
What to Expect
A swim test is required.
You will get wet! Bring a towel.
You should wear clothes that are comfortable and can get wet. We recommend form fitting work out clothing, nothing loose.
Most appropriate shoes are tennis shoes.
NO FLIP FLOPS!
The Front Office staff can hold your keys during class.
Any other personal belongings may be stored in a $0.50 one-time use locker. (Takes 2 quarters)
Expect to arrive at least 15 minutes early to complete the registration and check-in process.
2023 Basic Sweep Rowing Class Schedule
| Section | Start Date | End Date | Days | Time |
| --- | --- | --- | --- | --- |
| SROW01 | June 13 | June 16 | Tue – Fri | 6:00 PM – 8:00 PM |
| SROW01 | July 24 | July 27 | Mon – Th | 6:00 PM – 8:00 PM |
| SROW01 | Aug 7 | Aug 10 | Mon – Th | 6:00 PM – 8:00 PM |