This course is designed for those with little or no experience and will familiarize the student with the basic fundamentals of windsurfing. This class covers rigging, terminology, balance, stances and sailing theory. Instructors will utilize the latest techniques and a variety of sail sizes to decrease fatigue and help accelerate learning. Upon successful completion of this course, students will be eligible to rent these windsurfers and join the Aquatic Center Sailing Membership.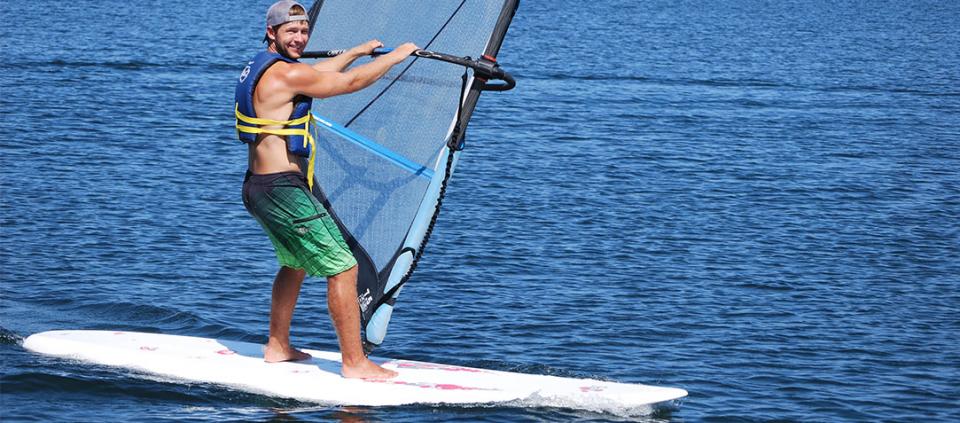 The book used for this course if the Start Windsurfing Right book (IBSN: 978-1882502967). The book is included in the cost of the class. Picking up your book early is recommended but not required.
Course Details
Length: 8 Hours
Minimum Enrollment: 3
Maximum Enrollment: 12
Minimum Age Requirement: 12
Pricing
Sac State Students: $80
Affiliate: $95
General Public: $105
*Textbook is included in this class.
Swim Test
All students will be required to take a swim test.
What to Expect
You will get wet! Bring a towel
You should wear clothes that are comfortable and can get wet
Shoes should either be tennis shoes or sandals with a heel strap.
NO FLIP FLOPS
The Front Office staff can hold your keys during class.
Any other personal belongings will have to be stored in a $0.50 one-time use locker
Expect to arrive at least 15 minutes early to complete the registration and check-in process.
2020 Basic Windsurfing Class Schedule
| Section | Start Date | End Date | Days | Time |
| --- | --- | --- | --- | --- |
| WIND01 | Mar 23 | Mar 26 | Mon – Th | 5:00 PM – 7:00 PM |
| WIND02 | Apr 20 | Apr 23 | Mon – Th | 5:00 PM – 7:00 PM |
| WIND03 | May 4 | May 7 | Mon – Th | 6:00 PM – 8:00 PM |
| WIND04 | May 11 | May 14 | Mon – Th | 6:00 PM – 8:00 PM |
| WIND05 | Jun 1 | Jun 4 | Mon – Th | 6:00 PM – 8:00 PM |
| WIND06 | Jun 13 | Jun 14 | Sat & Sun | 2:00 PM – 6:00 PM |
| WIND07 | Jun 29 | Jul 2 | Mon – Th | 6:00 PM – 8:00 PM |
| WIND08 | Jul 11 | Jul 12 | Sat & Sun | 2:00 PM – 6:00 PM |
| WIND09 | Aug 1 | Aug 2 | Sat & Sun | 2:00 PM – 6:00 PM |
| WIND010 | Aug 3 | Aug 6 | Mon – Th | 6:00 PM – 8:00 PM |
| WIND011 | Aug 15 | Aug 16 | Sat Sun | 2:00 PM – 6:00 PM |
| WIND012 | Aug 31 | Sep 3 | Mon – Th | 5:30 PM – 7:30 PM |
| WIND013 | Sep 12 | Sep 13 | Sat & Sun | 1:00 PM – 5:00 PM |
| WIND014 | Sep 14 | Sep 17 | Mon – Th | 5:30 PM – 7:30 PM |