This course is designed for those with little or no experience and will familiarize the student with the basic fundamentals of windsurfing. This class covers rigging, terminology, balance, stances and sailing theory. Instructors will utilize the latest techniques and a variety of sail sizes to decrease fatigue and help accelerate learning. Upon successful completion of this course, students will be eligible to rent these windsurfers and join the Aquatic Center Sailing Membership.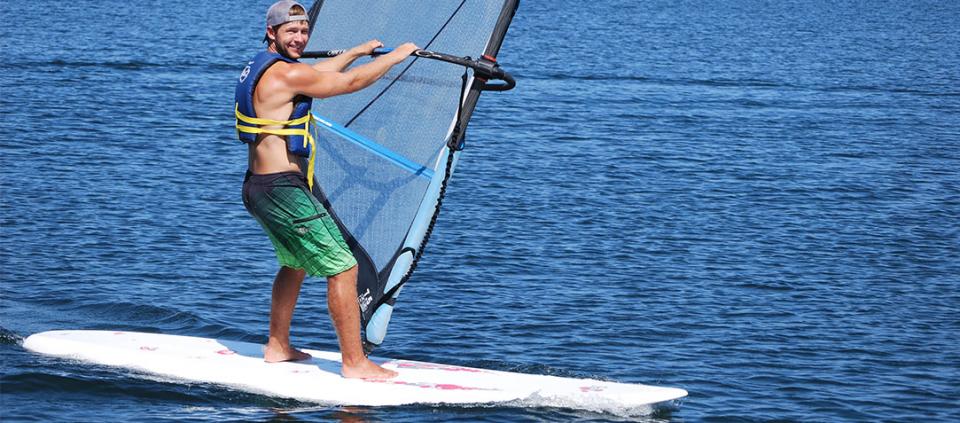 The book used for this course if the Start Windsurfing Right book (IBSN: 978-1882502967). The book is included in the cost of the class. Picking up your book early is recommended but not required.
Course Details
Length: 8 Hours
Minimum Enrollment: 3
Maximum Enrollment: 6
Minimum Age Requirement: 12
Pricing
Sac State Students: $80
Affiliate: $95
General Public: $105
*Textbook is included in this class.
Swim Test
All students will be required to take a swim test.
What to Expect
You will get wet! Bring a towel
You should wear clothes that are comfortable and can get wet
Shoes should either be tennis shoes or sandals with a heel strap.
NO FLIP FLOPS
The Front Office staff can hold your keys during class.
Any other personal belongings will have to be stored in a $0.50 one-time use locker
COVID Regulations & Safety Plan
Arrive on time (neither early nor late)
Parking will be in our outer parking lot. You will be greeted by our safety compliance monitor at the "North" gate and you will give your name, class and time. They will give you a squirt of hand sanitizer and ask if you have your towel, water bottle and are ready for your class.
Check in at the Front Desk, turn in your participant waiver and COVID waiver. The front office staff will direct you to your class meeting location.
Face coverings must be worn on the facility at all times. Once on the water please remove your face covering but keep close so that you can put back on when you return to the docks.
Practice social distancing and maintain a 6 foot distance while on the facility.
Restrooms will be available to use at your own risk. There is no more than 3 people in the restroom at any time.
Guests and non-paying family members are not allowed to be at the facility.
Use of the Aquatic Center is at your own risk.
Be on a mission to arrive, attend your class, cleanup and depart for your next destination.
If you are sick, feel sick, or have a fever, you many not enter the facility
Individuals classified by the CDC as "at risk" should consider not coming to the facility.
2021 Basic Windsurfing Class Schedule
| Section | Start Date | End Date | Days | Time |
| --- | --- | --- | --- | --- |
| WIND01 | Mar 15 | Mar 18 | Mon – Th | 5:00 PM – 7:00 PM |
| WIND02 | Apr 19 | Apr 22 | Mon – Th | 5:00 PM – 7:00 PM |
| WIND03 | May 3 | May 6 | Mon – Th | 6:00 PM – 8:00 PM |
| WIND04 | May 24 | May 27 | Mon – Th | 6:00 PM – 8:00 PM |
| WIND05 | Jun 5 | Jun 6 | Sat & Sun | 2:00 PM – 6:00 PM |
| WIND06 | TBA | | | |
| WIND07 | Jun 28 | Jul 1 | Mon – Th | 6:00 PM – 8:00 PM |
| WIND08 | Jul 10 | Jul 11 | Sat & Sun | 2:00 PM – 6:00 PM |
| WIND09 | July 26 | July 29 | Mon – Th | 6:00 PM – 8:00 PM |
| WIND010 | Aug 23 | Aug 26 | Mon – Th | 6:00 PM – 8:00 PM |
| WIND011 | Aug 28 | Aug 29 | Sat & Sun | 2:00 PM – 6:00 PM |
| WIND012 | Sep 11 | Sep 12 | Sat & Sun | 2:00 PM – 6:00 PM |
| WIND013 | Sep 20 | Sep 23 | Mon – Th | 5:30 PM – 7:30 PM |