This is the Sacramento State Aquatic Center version of team building on the water. This fun three hour team building activity can be used for school field trips, youth groups, family reunions, or competitive teams. We have a menu of selected activities from which to choose. This is a fun way to work on communication and team building skills while overcoming personal challenges and having a great time on the water. Life jackets and all equipment are included. The first step in setting up your Team Building is to fill out the Request for Team Building WET and also the W.E.T. Program Goals and Expectation.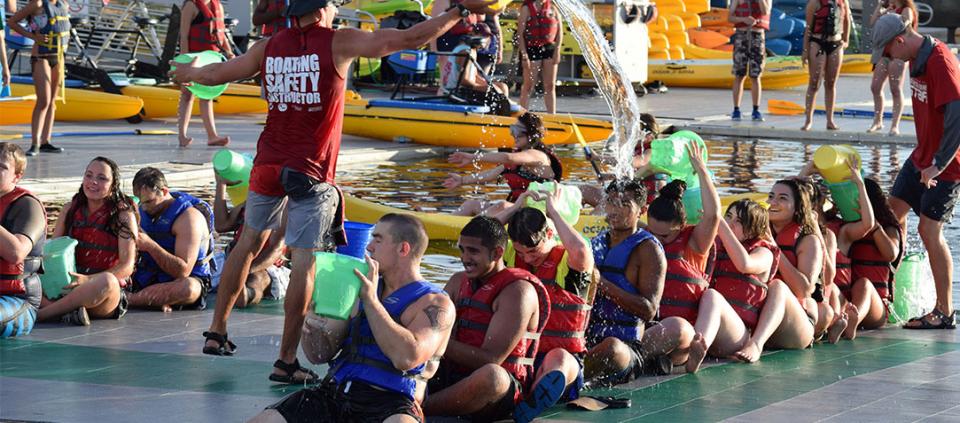 Pricing
| Duration | Cost Per Participant |
| --- | --- |
| 2 hour | $30.00 |
| 3 hours | $40.00 |
| 4 hours | $50.00 |
Sample of the W.E.T. Activities
Helium Hula Hoop
Land Skis
Team Hydro Bike Races/Relays
Team Hydro Bike
Wiggle Races/Relays
Kayak Races/Relays
Blind Folded Kayaking
Lily Pads
Canoe Challenge
Team Obstacle Course
Team Tug-a-War
Tension Traverse
Build a Raft
What do we Need to Bring to be Prepared?
Swim Suit or Board shorts
Beach towel
Bottle drinking water
Sun block
Sack lunch
Dry set of clothes
Water shoes with heel straps (bare feet not permitted)
The Aquatic Center Will Provide
Life jackets for all participants (if participants have their own life jackets or wet suits they are more than welcome to bring them)
Boating safety instructors
Boating activities and challenges may include any of the following:
Canoeing, Kayaking, Swimming, Paddle Boards, Rowing, and land based Activities
Note of Comfort to all Participants
Challenges can be challenge by choice but we encourage all to participate.
Everyone is required to wear a PFD (personal flotation device) at all times when on the water, in the boats or on our docks.
To schedule your Team Building WET day please fill out the

Request Form

as well as the Program Goals and Expectations